As the name suggests, if you have an app that provides a service on a daily basis or regularly in general, you can automate the process of sending out SMS(es) by scheduling them at your convenience and having the app take care of the delivery. In this approach, once you have your app, you can save a lot of time on planning and physically sending an alert SMS.
You just need to schedule your alerts and the app takes care of the rest.
Although we've called it Scheduled 'Alerts' you are open to interpret and use this template for your service as you see fit. A number of creative ways you can utilize this template are given below.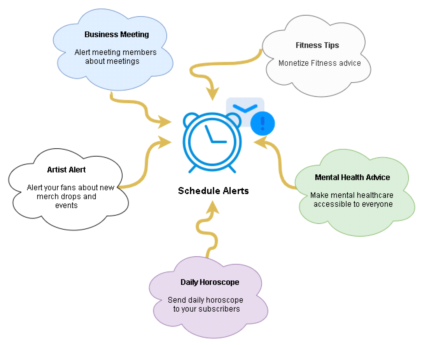 Business Meeting Alert
Being a business owner can be a tough job but you, as a developer, can make it easier. Build a meeting alert app for your local business so that they can schedule meetings and send alerts to their attendees on time.
Artist Alert
If you're an artist then you can send alerts to your fans about your new content, events and merch drops. Keep your fans in the loop by building this app and earn from fan interactions.
Daily Horoscope
If you're an astrologer you can send daily horoscopes to your subscribers. You can customize the horoscope readings based on your subscribers' astrology signs.
Fitness Tips
As a fitness trainer you can generate a new stream of income by providing your subscribers with fitness tips on the daily. You can personalize your service by creating personalized fitness advice for your subscribers and schedule them accordingly.
Mental Health Advice
Sometimes all you need is a proper word of advice to get you through the day. You can make mental healthcare accessible to everyone by creating this app and publishing it on our app store. Disclaimer : This applies to you only if you are a mental health expert or if you're willing to source advice from one. These are just the start. Get creative and bring your own ideas to life. Applink is here to get you started.